GUEST POST: Intervention and Prevention Services for Runaway, Homeless, At-Risk Youth & Families
June 12, 2017
By: Lindsey Kahney, Prevention Specialist at National Runaway Safeline
For over 40 years, the national Runaway Safeline (NRS) has been the nation's federally designated hotline and online services for runaway and homeless youth. Our mission is simple, to help keep America's runaway, homeless and at-risk youth safe and off the streets. NRS strives to do this by providing education and solution-focused interventions, offers non-sectarian, non-judgmental support, respects confidentiality, collaborates with volunteers, and responds to at-risk youth and their families.
Youth and family members can connect to the 1-800-RUNAWAY hotline or 1800RUNAWAY.org online crisis services to work through problems and find local help from social service agencies and organizations. Some individuals just need someone to talk to, others may need help finding a shelter, food, medical assistance, or counseling. Some youth are on the streets. Others are struggling with issues at home. NRS is here to listen, here to help 24/7/365.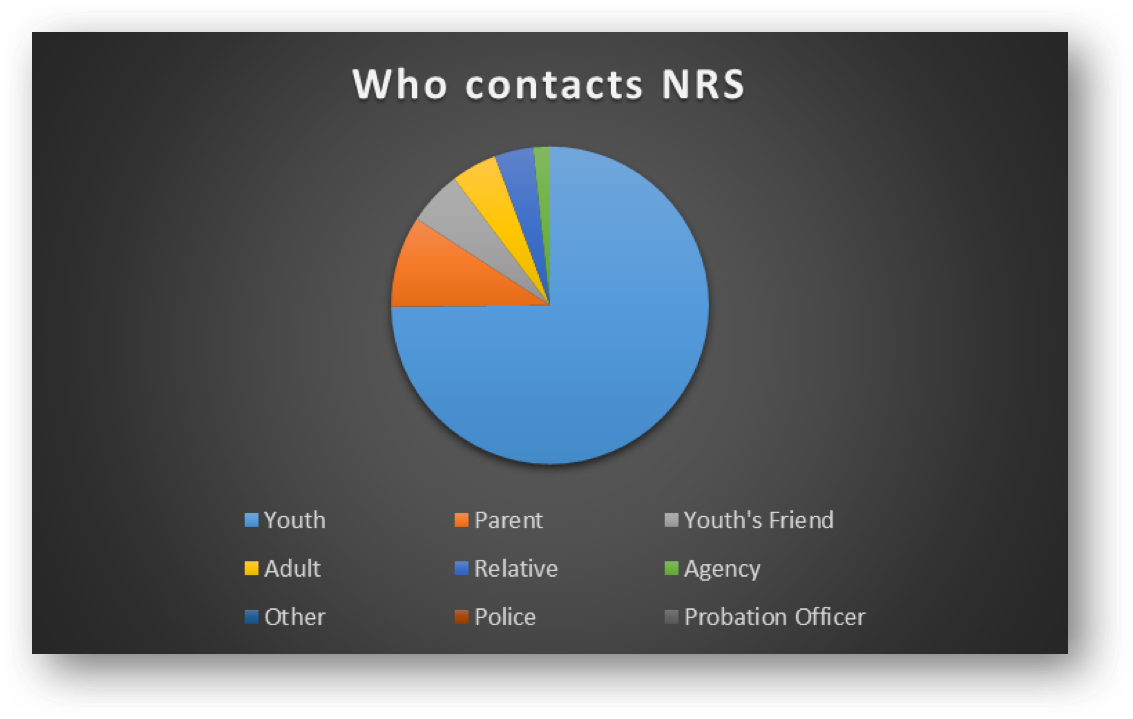 Services: We like to empower callers to develop a plan of action to improve their situation. With a database of around 10,000 resources we are also able to provide a myriad of services – counseling, shelters, alcohol/drug treatment, etc. While our only call center is located in Chicago, we have access to resources throughout the U.S. and can support anyone no matter where they are calling from. We also offer message and conference call services for youth who need assistance reaching out to their family or guardian. Conference calling also helps when youth need to connect with resources, such as a shelter, we will remain on the line and advocate for the youth and help them connect to those services.
Home Free Program: Since 1995, in partnership with Greyhound Lines, Inc., we have reunited more than 15,000 youth with their families through our Home Free program. This youth initiated program provides a free bus ticket for qualifying runaway youth who want to return to their families, or an approved alternate living arrangement. During this process we work with the youth and family to figure out what home is going to look like when they return. We provide mediation services by conducting a conference call and also finding local resources for the youth and family, as needed.
Prevention Curriculum & Additional Services: It's also important to talk about the additional resources NRS provides outside of our intervention services. NRS recognized how important it is to have helpful and accessible prevention resources for youth and those who work with them. So in 2007 we created the Let's Talk: Runaway Prevention Curriculum. Let's Talk is a free, 14-module, interactive instructional tool, available in English and Spanish. The evidence-based curriculum is intended to build life skills; increase knowledge about runaway resources; educate about alternatives to running; and encourage youth to access and seek help from trusted community members. In addition to this free resource, we also provide additional education and promotional materials. All prevention and education materials are available to order or download.
The National Runaway Safeline (NRS) is here to listen whether you are thinking of running away or already have. If you are a youth in crisis, or are concerned about a youth, please contact us 24/7 at 1-800-RUNAWAY (786-2929) or connect to our live chat at 1800RUNAWAY.org.