Special Attention Paid to Youth in 2017 Point-in-Time Count Report
June 16, 2017
By: Ari Kisler, VCRHYP Assistant Director
The Vermont Coalition to End Homelessness and the Chittenden County Homeless Alliance released their joint report on Vermont's 2017 Point-in-Time Count this week. With 2017 considered a baseline by HUD for measuring youth homelessness around the country, VCRHYP dedicated extensive time to community outreach in hopes of gathering the most accurate data on youth homelessness in our state as possible.
The final report, which can be viewed here, tells part of the story, but certainly not all. Page 8 is dedicated to youth homelessness and shows us that 142 youth between the ages of 18 and 24 were literally homeless on the night of January 24th, 2017. Looking further at the data collected that night, VCRHYP knows that 88 of those 142 youth were unaccompanied by a parent; 49 were staying at an emergency shelter, 30 were living in transitional housing, and 9 were sleeping in a place not meant for human habitation (unsheltered), completely alone. We also know that there were 2 unaccompanied minors, youth under the age of 18 that were not with a guardian, that were homeless that night: one was in transitional housing and one was unsheltered. The following chart breaks this data down:

The report also shows us that 29 literally homeless households that night were families headed by a youth between the ages of 18 and 24. Those households were made up of 35 youth parents (ages 18-24) and 36 children under the age of 18. The following chart breaks this data down: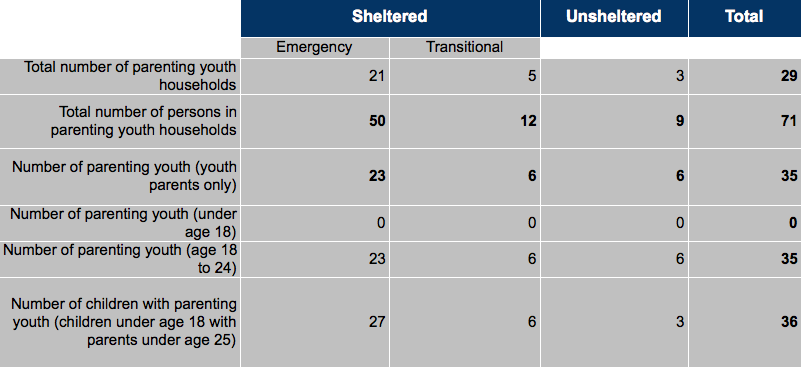 While VCRHYP's ultimate goal is to see youth homelessness in the state of Vermont end, we also want to make sure that if there are homeless youth, they are counted during the Point-in-Time Count. That is why our Assistant Director, Ari, focused on community outreach during the months leading up to the night of the count. She reached out to Youth Development Program coordinators at 11 agencies covering all AHS districts, Juvenile Justice/Diversion programs through a main contact at the Department for Children and Families office, Youth in Transition programs through a main contact at Vermont Federation of Families for Children's Mental Health, McKinney-Vento liaisons in all school districts, Parent Child Centers in 7 counties, teen/community centers in 4 counties, and AmeriCorps and A*VISTA members serving at 11 different youth-focused agencies in 4 different counties.
Along with her outreach, Ari collected data on youth who were precariously housed that night in January; these youth, who are couch-surfing or at imminent risk of becoming homeless, are not included in the Point-in-Time, but make up a large portion of the homeless youth population in our rural state. Through her efforts, she was able to identify 46 precariously housed youth ages 18-24 and 63 precariously housed youth under the age of 18.
The Point-in-Time Count is just one piece of the puzzle in Vermont's understanding of its homeless population. You can learn more about here.