Outdoor Adventure-based Programming in the Northeast Kingdom
October 15, 2016
By: Gary Burnham, Northeast Kingdom Youth Services, St. Johnsbury
Stop, breathe in the fresh mountain air, and behold the beauty that is the Vermont wilderness. Northeast Kingdom Youth Services has been exploring the outdoors every summer since 2011 by sponsoring an outdoor adventure-based counseling program. Our staff takes adolescents ages 13 to 18 in small groups into the mountains, rivers and lakes of the North Country in order to learn new strategies for coping with life challenges. All youth in our Basic Center Program can be eligible to join the adventure program each summer; we work on communication, problem solving, and conflict resolution in the outdoors where learning is concrete, practical, and immediate.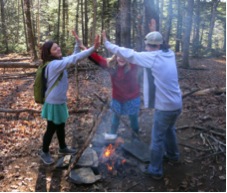 Getting the fire going: high 5's all around!
NEKYS has just finished our 5th summer program and the 6 youth participating this year have formed lasting connections with each other and with the adults they've encountered along the way. Throughout the coming school year, we will be checking in with them from time to time and, whenever possible, we will be offering a reunion hike. Last year's summer group got together on New Year's day to climb Mt. Lafayette in the Presidential Range: a feat no one thought possible when we first met in June of 2015. That's the beauty of outdoor work. We all begin to learn that anything is possible… not because someone tells you it is… but because you actually experience it. The set-backs and obstacles are all just another part of the adventure.
For more information about this program, please see their Site Snapshot video titled "Into the Wilderness."